Prepare to Learn the Truth About How to Really Generate Profit Online:

As a 20-year veteran online business CEO, Entrepreneur and $60 Million dollar producer… I have a different perspective on how to build a business online compared to others. There are many course sellers out there pitching the latest, greatest, shiny, push button marketing tactic. This is the opposite of what works. If you follow that path… the statistics show that you're doomed to fail.

The reason so many are trying to sell you the latest loophole is because that's what sells. People love to buy loopholes and push button magic that promise quick and easy money. People instinctively know that most get rich quick schemes sound too good to be true, but many of us are optimists. So, we hope that it's true despite what logic tells us and we buy. The clever marketers out there turn around and sell you exactly what they know you'll buy.
Instead, in this short book, I'd like to show you what works to create a stable business that produces real, predictable profit for you. This is NOT the usual get rich quick silliness and it's certainly not some push-button loophole that magically brings you money.

Unlike the typical guru course seller, I'm not going to mislead you. The path to succeeding online is challenging. However, I think you're up for the challenge. The payoff in the end is certainly worth it. Too many people have been misled down the false path of push button riches. This false information confuses people and is the cause of a lot of heartache for online entrepreneurs. I hope that what you learn as you continue clears this confusion away and puts you on the correct path. The path to profit.
In this book, I'm giving you the same exact strategies I use to start all my million-dollar online businesses. They helped me generate over $60 Million by following the formula step-by-step myself. My goal in releasing this is for you to take this formula and put it to use on your own business. Are you willing to try it out?
Are you up for the challenge?

IMPORTANT: Read This Before Continuing:

This book is intended to be a companion to my free online web class for The Profit Discovery Formula. It's highly recommended that you watch the free web class first before reading this book.
If you haven't seen the web class yet, go here now and schedule your free session:
Click Here To Register For The Free Training

A Game of True or False

There are three things I wanted to quickly clarify with you before we continue. They are questions I get a lot and they help lay the groundwork for what's to come. It's regarding what works and what doesn't work to generate profit online. Here's the three ideas people often ask me about and whether they are true or false:
You must build an online business in order to generate steady profit online:

This is absolutely true. It's the only way I know of to make large amounts of steady profit online.
If you're looking to generate a steady, large amount of money online… this makes you a business builder. An online entrepreneur like me.

There's a lightning quick way to easily make money online

This is partially true. There ARE some ways to earn money online fairly quickly, but these are not scalable into higher profits. They also usually aren't stable. Some of these methods could be things like selling your time and services on sites like fiverr.com or upwork.com, but these are more like a part time jobs than a true source of profit. These can be effective ways to save up the money you need to build your real business though.
Internet marketing tactics don't work

This is false. They do work. However, it takes building a business and having a consistent plan to apply them to. A single internet marketing system or strategy does not build a business. All on their own, these tactics that the course sellers pitch you do not work. However, when applied to a real business following a proven plan – they can work very well.
Basic Laws of Human Behavior & Your Success
The materials contained in this book are based on three things:
My research on why people fail in building their online businesses.
Statistically, what's proven to work in business.
The success patterns of highly effective people.
The Dirty Secret They Don't Want You to Know
The United States Bureau of the Census keeps detailed statistics on businesses. Their data shows that 7 out of 10 new small businesses fail. That's actually pretty surprising.
However, what's even more shocking is that I estimate in the online world the number is closer to 9 out of 10 businesses fail. This is particularly high amongst the customers of the course salesmen pitching the latest in shiny objects disguised a clever marketing or business tactics. I estimate that the failure rate amongst that group to be much higher than 90%.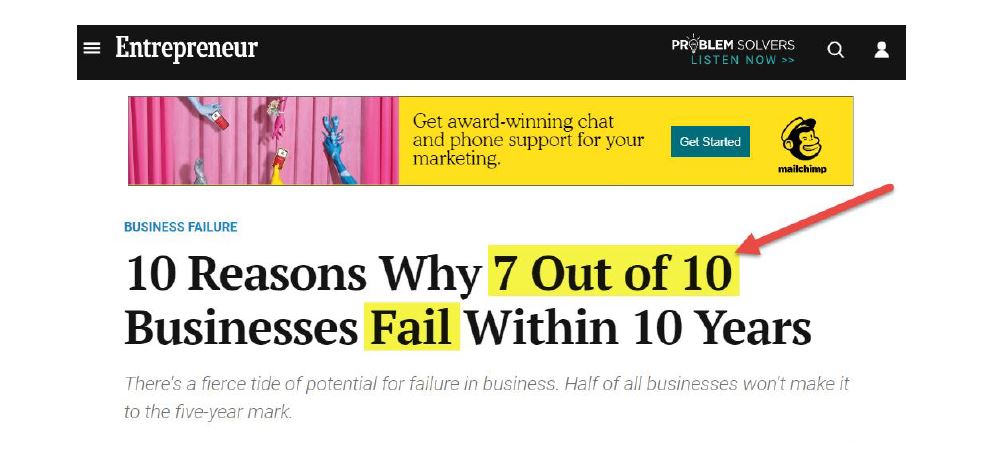 A 90%+ failure rate is just unacceptable to me. It's what inspired me to create the Profit Discovery Formula. I want more entrepreneurs to use the formula to succeed and reverse this horrible trend of failure.
Next, we'll talk about why people fail.

The Lack of Business Basics:

I've found that for most new entrepreneurs, their first attempts to build a business have some basic business concepts missing from what they're doing. It's kind of like trying to learn multiplication in kindergarten without having even learned to count from 1 to 10 yet.

These basic business and marketing concepts are vital to succeed. They're easy to learn and even easier to do once you know them. However, if you try to build a business without knowing them: you're destined to fail.
Here are a few business basics that must be in place within your business. Otherwise, you'll really struggle to profit:
You've Got to Serve Your Customers Creating value for your customers is how you create profit.
If you don't have a clear picture of exactly how you're serving them and providing value: you'll struggle to have a profitable business. Plus, trying to market and sell your products without a deep understanding of this is almost impossible.

I've even seen people follow some guru's advice and get busy building a business, but they don't even clearly understand who their customers are! How will they ever provide value and serve their customers if they don't know who the customers are and what they need?

You've Got to Like What You're Doing to Provide Value You don't have to be a passionate, mission driven entrepreneur to succeed. However, you've at least got to have some interest in what your business does. Otherwise, you'll quit when you run into challenges. It's just too easy to quit a business you don't care about.
If you don't at least like your customers and have some interest in helping them, you need to find a different product to sell or a different group of people to sell it to.

You'll hear a common theme in this book: That your business has got to fit you. A one size fits all approach to building an online profit source just doesn't work. This starts with the products you sell, the way you make money and who your customers are. They've got to "fit" you and be something that you can remain happily interested in for years to come.